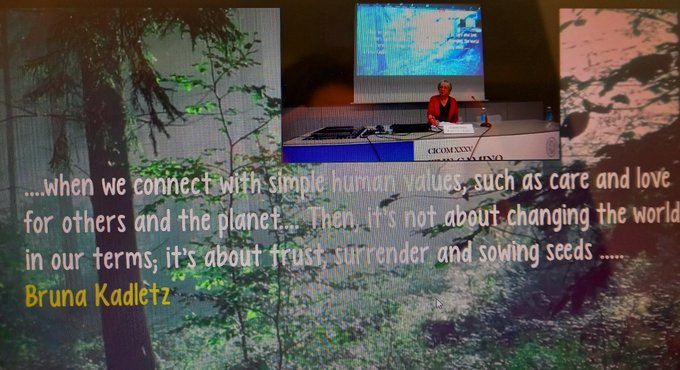 Pt I
In my recent keynote speech to Euprera Annual Congress at the Universidad de Navarra I argued that
a) the global culture has become pathologically performative, emphasising outward aspects of life over inner
b) that public relations has benefitted from and contributed to this culture, and that
c) the culture is exploitative, discriminatory, narcissistic, illusory, hyperactive and killing the planet.
The sociologist Harmut Rosa calls it a 'frenetic standstill'. I suggest the term 'masquerade' to reflect the performances that drive individuals and institutions in contemporary western culture.
Covid-19 pressed pause. Do we just rewind or imagine something different? More stuff or more future?
If we choose different, I argue we have to go inward. In the talk I referenced Carl Jung, Harmut Rosa, Hannah Arendt and the novelist Marilynne Robinson, all of whom urge a turn inward to reconnect with the human, especially in times of darkness and confusion (references below)/
I also drew on several talks and courses organised by St Ethelburga's Centre for Reconciliation and Peace which introduced me to sustainability professor Jem Bendell, Nigerian storyteller Bayo Akolomafe, and Bruna Kadletz, a Brazilian dentist turned activist working with the world's refugees..
Pt II
Depth Public Relations is built on the following foundations (full workings will be revealed in forthcoming book).
1) Slowing Down
'The times are urgent: let us slow down' says Bayo Akolomafe. Slow food, slow journalism slow science (see also Dorling, 2020).
Social media demand instant responses and constant presence; private and public spheres are fused and spinning faster all the time. PR needs strategies to create space for reflection.
However, like Rosa, I prefer the inner/outer axis to the faster/slower. Slow bullshit is still BS.
2) Shadow Work
Going in means facing up to things the masquerade is designed to distract us from.
Carl Jung calls it shadow work, the purpose of which is wholeness. It means breaking old patterns without knowing what comes next. Living in the liminal.
Hannah Arendt, in The Human Condition (1958) says: It is [necessary to] walk in the discomfort that sometimes accompanies reflection, (p70).
The key shadow for PR, I reckon, is the part the industry has played in denying climate change: it's role in the construction and maintenance of the 'denial machine' is fully documented in Almiron and Xifra's (2020) excellent book. It is not possible to read this and insist that PR is a force for social good, as so many scholars and practitioners do. Maturity requires contemplation of harm done.
3) Finding what's real
In a world of illusion and fakery, how to connect to the real? A common question in these times, of course. Global movements are seeking meaning amid the meaningless. Many start with the body: the wonder and simplicity of breath; kinship with the non-human world; our common transience. How might such connections change PR?
4) Develop Resilience
Connecting with our collective fragility, witnessing the loss of species. the suffering already here and still to come, requires resilience. The Deep Adaptation Network brings together professional groups facing global change – there is space here for PR to mitigate some of the harm done.
5) Connect
Depth PR is about digging deep in order to connect at depth, not to isolate or withdraw. Jung says we have to connect with ourselves to connect to others. Not shouting but listening (real listening, not the tick box 'consultations'). Young people are building communities that communicate in very different ways to those dominant in PR theory and practice, including learning from indigenous peoples'. Listening may require not-fixing, a challenge for PR, perhaps?
6) Change
Practice is responding to growing pressure for change. Agencies are branding themselves as actors for change; ESG is a growing force in organisations. But without depth much of this will still be too close to green washing or purpose washing – a continuation of the masquerade, just with different costumes. Depth PR requires different conversations.
The academy is still teaching old tunes, reflecting the embedded nature of PR within business schools. Pressures on universities preclude the kind of creativity required for this moment. Academe should, of course, be the home of reflection – perhaps it is time to remember that role?
Change will come – PR can participate in that change or just watch, but either way, change is coming.
What do you think? Still writing the final chapter – all feedback to these ideas welcome.
REFERENCES
ALMIRON, N. & JORDI, X. 2020. Climate change denial and public relations: strategic communication and interest groups in climate interaction, London, New York, Routledge.
ARENDT, H. 1958. The human condition, Chicago, University of Chicago Press.
Dorling, D. (2020). Slowdown : The end of the great acceleration–and why it's good for the planet, the economy, and our lives. New Haven: Yale University Press.
Robinson, M. (2010). Absence of mind : the dispelling of inwardness from the modern myth of the self. New Haven: Yale University Press.
Rosa, H. (2019). Resonance : a sociology of the relationship to the world (J. C. Wagner, Trans.). Cambridge, MA: Polity.